Posts tagged
serro scotty
0
After waiting all week to hear back from Tom at Serro Scotty trailers, we got in touch with him today to find out about the modifications for our new HiLander that we'd like done in production. All three were OK'd at NO COST!! With the total retro look of the exterior from the colors to the design, we wanted to do the same with the interior. First, the interior on a standard HiLander looks like this:
We're going with a different flooring. Instead of the tan stuff, we're going with the highly retro black & white checkered floor, which will look similar to this old Shasta trailer:
The next issue was with upholstery. The 2010 HiLanders have a brown, paisley looking design that neither of us cared for. The folks at Sierra Motor Corp. in Bristol, IN, where the Scottys are built, will be sending us some photos of some solid colors for us to choose from.
The last request was for a Formica boomerang design for the counter and table tops. The one we thought would tie in with the exterior would be the aqua colored boomerang. A chrome edging around the counters and tables will also compliment the boomerang quite well.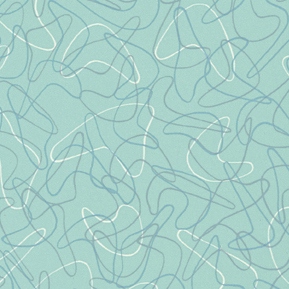 So that's the plan! Happy to say our HiLander is now officially ordered and it sounds like one they've already started will be earmarked for us. ETA 3 weeks!  Stay tuned…
0
Those of you who follow the blog know that we're new RVers since September and are already looking to upgrade to something with a few more amenities than our T@B. We've been back & forth for over a month trying to decide what we want our next trailer to be. We were pretty sure we narrowed it down to the Serro Scotty HiLander, and even made a trip to western Pennsylvania to talk with the owner of the company.
However, the Indy RV Show has been in town the past week and on our second trip to it this past Friday night, we ran into a nicely priced and bigger alternative: The CrossRoads Zinger.
The Zinger is a nice entry-level travel trailer, built by CrossRoads RV near the RV manufacturing hub of Elkhart, Indiana. This is a very nicely built model, with ample room and other goodies. Compared to the Scotty, it's surely a typical looking "box" trailer.
So this leads us to our current weighing of pros & cons. The Scotty has the cool retro 60's look, but is smaller. The Zinger is a box on wheels, but has more room for a similar price as the Scotty.  The Scotty could fit in a garage, but the Zinger couldn't. The Scotty weighs 2500 lbs and the Zinger weighs about 4000lbs. The heavier load would likely require me to have my 200,000-plus mile transmission rebuilt. The Scotty checks in at 15'9″ from tongue to tail and the Zinger measures about 23′.
So these are some of the variables we need to think about before making a decision. And of course, we won't have to make a decision until we sell our T@B. So, what are your thoughts? Feel free to comment below!
0
If you would have told me three months ago I'd be the owner of a travel trailer in early December, I likely would've looked at you, tilted my head, and would've said "Huh?" Well, it is true, and I'm quite happy I own one, a 2010 T@B TQ.
We bought this little guy in September after a series of events transpired on a Route 66 motor tour we were on in Missouri. We have no regrets after purchasing our T@B. We've had 5 camp outs in it, met some great new T@B friends, and have even spent numerous nights "driveway" camping. We're hooked and there's no turning back!
After camping out a few times, we realize whatever our next trailer would be, we want something with a shower/potty combo. We found a few small trailers on the market and like the longevity of the Casita.  But there was one issue I had with the Casita that I've been having trouble getting over. My apologies to Casita and its owners, but this thing to me is just ugly!
After having the cool looks of the T@B, it would be hard for me to own this. Make no mistake, I have the utmost respect for the Casita and their longevity. But the T@B just has that "Wow" factor. I would have settled to have one if that's all there was in our price range, but fortunately something else came along that met all our requirements. It has the shower/potty combo, it has retro styling, and it's got the "Wow" factor. It is the Serro Scotty HiLander.
Serro Scotty was a company that began producing small "canned ham" trailers in the late 1950's. After a fire at their Pennsylvania plant in 1997, they got out of the RV business and focused on, ironically, building mobile fire safety houses and are now known as Mobile Concepts by Scotty. In 2006, an RV dealer in Pennsylvania, Bill Kerola, purchased the rights to the Serro Scotty name and began having a few of the more popular Scottys from the 1960's reproduced, retaining much of the original look, but with 21st century technology.
We took a trip to Collinsville, Illinois to an RV dealer there who sells the new Scottys. We were very impressed with a number of things with the HiLander he had for sale. It appeared to be constructed quite well, the oak cabinets were put together well, it had a nice amount of usable floor space, it had a nice amount of head room compared to our T@B, the shower/potty combo looked ample, and oh yeah, it had that "Wow" factor!
We've learned the new Scottys are being produced by Sierra Motor Corporation in Bristol, Indiana that makes living quarters for horse trailers. Jennifer talked to Tom at Serro Scotty Worldwide, the general manager, and he did a fine job answering all the questions & concerns.
So…it looks like we're going to make the commitment to get a HiLander for our camping adventures. Ahh, but one issue first: We have to sell the T@B. We've begun the process with an ad on Craigslist. We're not too worried if it doesn't sell right away, as we don't feel there's a big rush. But, we're really getting excited about one day getting the HiLander. And we're pretty sure we'll hang on to that one longer than 3 months.