Posts tagged
albuquerque
0
Today's Map
Below is an interactive map of our trip, tracked using my Trimble Outdoors Navigator iPhone app. You can zoom in, or click the link below for a bigger, fullscreen map.
Feel free to browse and refer to the map for details about where we traveled, the photos were taken, etc.
We decided to try having breakfast at a place recommended by a coworker of mine – not on 66, but very cool, The Owl Cafe has a very cool structure!
Afterward, we drove down to Central Avenue (Route 66) to take a few photos of some of the excellent signage still remaining. I only took a fraction of what was there – I would like to spend much more time in Albuquerque, and especially in the evening! The evening before, we had arrived late and we were all pretty tired and anxious to get to our motel. Without a 3 year old with us, I would have been cruising Central Avenue for neon shots, but the little man was in need of sleep (even though he was still really hyped up!); he didn't nap, slept minimally and was really excited on our trip – too excited, actually. He hated leaving every place we went that he enjoyed, so there were some difficult moments.
Here are a couple more photos from Route 66 in Albuquerque:


In addition to driving on 66, today would be a "filming location" day! It's been a while since we have done a filming locations post (our last were in 2011, we did all of "Mystic Pizza" and also filled in more of "Ferris Bueller's Day Off"). We would be focusing a bit of attention in Albuquerque to photograph movie locations from the 2007 comedy "Wild Hogs," starring John Travolta, Tim Allen, Martin Lawrence, and William H. Macy. That blog post is linked here and lists the locations (also can be seen on our trip map above).
After finishing all of the filming locations, we continued west on Central Avenue, which is the post-1937 alignment of Route 66 in this area. We continued up Nine Mile Hill, which offers a beautiful views from the top; eastbound, you will get a great view of Albuquerque. Westbound, is a nice view of the New Mexico prairie. By coincidence, on our honeymoon in 2002, I snapped a photo of the westbound view and as I was watching the 1940 film, "The Grapes of Wrath," realized that once scene in the film was shot at the same location from my honeymoon photo! Check it out on my "Grapes of Wrath – Filming Locations" page.
Continuing westbound on the post-1937 alignment, approximately 19 miles west of Albuquerque is this Parker through truss bridge crossing the Rio Puerco.
Here is the same location back in June 2002. Shortly after (September 2003), a large casino called the Route 66 Casino opened up, and is now visible to the left of the bridge in the background. Was far more desolate before! Opening the photos on Flickr, will offer a larger view.

At this point, it is necessary to join the Interstate, which we did until Exit 126, where the pre- and post-1937 alignments converge. However, there's a small portion of the pre-1937 alignment that continues west through Laguna Pueblo land, so we thought we'd try it. According to McJerry's EZ 66 Guide, this portion is fairly rough (it was), so we didn't take it after all. We did spot this bar out there on this alignment.
Instead, we went back up to to the post-1937 alignment which still follows I-40, at this point, until Exit 117 at Mesita, where we exited and continued on Route 66 through Laguna Pueblo.
Between San Fidel and McCarty's, there's an old Whiting Bros. station in ruins. Would be nice to see it restored and in use like the one in Moriarty some day.
There are also such beautiful views in New Mexico too!
Next, we arrived in Grants, which has some neat old signage – I didn't get them all, here are just a few.
The Grants Cafe
West Theatre
Sands Motel

The Roaring 20's (lounge/package liquors, etc. – now closed)

Grants was also a playground stop for our grandson, who is very adept at spotting playgrounds! There was a nice park along Route 66 with play equipment, so we made a stop.  Along the road in front of the park is a nice metal sculpture commemorating the City of Grants and its history, including Route 66, Native American culture, uranium mining, pioneers, and more. Very detailed! You can click on the photo below to go to my Flickr site, where you can view a larger size for more detailed viewing.
 Continuing west on Route 66 from Grants, we saw this old motel sign near Bluewater.
Then there's the Continental Divide, elevation is 7,245 ft. at this location. Rainfall divides at this point; to the east, it drains to Atlantic and to the west, the Pacific.

Most of our time in Gallup was spent at Bubany Park, a tiny residential neighborhood park with…you guessed it…a playground. I'm starting to think of this trip as the "Playground Trail." LOL Of course, the Playground Trail is more commonly known as the National Park to Park Highway, a loop that connected National Parks. But on this trip, it was about us visiting playgrounds!
I did snap one photo on the west side of Gallup, though, of a place called Virgie's Restaurant and Lounge.
It was lightly raining as we approached the Arizona border. We didn't experience too much rain on this trip, so I wasn't bothered by it. Just past the border along Route 66 is Lupton, which has several trading posts. Here is a photo of the Chief Yellowhorse Trading Post (closed). This area provided inspiration for Cars, where the old "Wagon Wheel Motel."
We continued on and decided to stay in Holbrook. Though we had gained another hour, our bodies didn't feel it and we were very tired and hungry.
We stopped at the Wigwam Motel, but they were full (sad face).
We didn't make a reservation simply because we typically travel without a strict plan. I like to have all of my travel information (routes, points of interest, etc.) all meticulously gathered and organized for our trips using Trimble, where I create a digital guide map that syncs to my iPhone. When we travel, I use the guide for reference, but we like to just drive and only generally concern ourselves with where we'll end up for the night, not adhere to strict schedules. Sometimes we do struggle to find acceptable lodging, but it's always fun and mildly adventurous!
Anyway, we ended up at a hotel right by the Wigwam called the Magnuson, and stayed in a perfectly acceptable and comfortable, albeit nondescript room.
Slideshow of All Photos
Below is a slideshow of all of the photos from this portion of the trip.
Click any photo to stop the slideshow and view the photos on my Flickr site. If you are on an iOS device and do not see the slideshow below, click here to view the set on Flickr.
Hope you enjoyed the ride!
-Pat & Jennifer
0
Today's Map
Below is an interactive map of our trip, tracked using my Trimble Outdoors Navigator iPhone app. 
Feel free to browse and refer to the map for details about where we traveled, the photos were taken, etc. You can zoom in, or click the link below for a bigger, fullscreen map.
We got started from our hotel in Amarillo and headed over to Route 66. First, we  spotted this now-closed shop called Spudnuts Coffee and Donuts. My grandson got a huge laugh out of "Spudnuts," so for quite a while he amused himself by repeating "Spudnuts"…over and over and over…we felt alot like Charlie Babbitt in Rain Man, as Raymond repeated 97X, BAM – the future of rock and roll, 97X, BAM – the future of rock and roll…you get the idea.
 Followed by a cool Sinclair Dinosaur at King Auto Sales
Arrow Motel sign
Next up was a newer addition to Route 66, but not Amarillo. This cowboy statue used to call his home a barbecue joint in Amarillo, but he was sold at auction earlier this year and now resides at the Cadillac Ranch RV Park on Route 66 in Amarillo…of course, not far from Cadillac Ranch.
Then we motored on through Vega and Adrian. Just for my grandson, more water tower excitement, complete with a Route 66 shield, which he's also fond of spotting. So, this was 2 for 1!
We stopped by the Sunflower Station gift shop, owned by Fran Houser, former owner of the adjacent Midpoint Cafe, and the inspiration for Flo, from the Route 66 themed Pixar film, Cars. Fran had an abundance of die cast Cars, and we picked up a Doc Hudson (in full Fabulous Hudson Hornet paint scheme and crew chief headset). We chatted with Fran for a bit and promised not to wait 12 years to come back, however, she currently has the Sunflower Station up for sale so she can retire (again) and spend more time visiting with family. More info on the sale can be found on Ron Warnick's Route 66 News site, here.
At the Texas-New Mexico border, is the "ghost town" of Glenrio. The town sits on the border, so there is a Glenrio, Texas and a Glenrio, New Mexico.
Another inspiration for the Pixar team here in the former Little Juarez Diner…
…which Pixar made into "The Glenrio Motel." Again, for more locations that inspired Cars, see this link. 
After crossing into New Mexico, we took the pre-1950's alignment from Glenrio to San Jon. It was paved, but is now dirt. It is very reasonably passable when dry.
We then arrived in Tucumcari, another town which provided alot of inspiration to Pixar for Radiator Springs. Tucumcari is a neon paradise, though it was very early, so we were not staying here (I had stayed here in in 2000 and 2002, though, and would love to again!).
Here's a collage of some of the signs in Tucumcari (many are from the return trip too). For more from Tucumcari, see the slideshow at the bottom.
Of course, another prominent – and natural – feature is Tucumcari Mountain, which inspired the mountain in Cars, shaped like a radiator cap.
We shopped at Tee Pee Curios and picked up some souvenirs, then left Tucumcari, continuing on 66 through Newkirk, and as we passed Cuervo, we took the pre-1950's alignment of Route 66 known as the Cuervo Cutoff. If you look on my trip map above, you can follow along our path. We took the "dog leg" route, but didn't take the diagonal section (we had taken part of that during our honeymoon in 2002).
Here's a brief video from the Cuervo Cutoff:
The next major city along Route 66 in New Mexico is Santa Rosa. Many towns along Route 66 in various states are preserving – and restoring – their neon signs and buildings. Sometimes the building is long gone, but the signs remain, and they are being restored. But it sure appears New Mexico Route 66 is really working hard at restoring signs, because there are some beauties in this state! I wish I could have been in every town and city with neon during the golden hour. Ahhh, the dream of early retirement…back to reality! Here are few shots from Santa Rosa. Like most of this trip – I didn't take all my photos westbound…we were also taking 66 eastbound, so I saved some photos for the return trip!
Past Santa Rosa, we continued on I-40. There's a fragment of post-1937 Route 66 at the westbound rest area at exit 252, just past the on ramp back onto I-40, which you can see on my map. We saw this in our friend Jerry McClanahan's excellent book, EZ66 Guide for Travelers, which you can pick up at Amazon. We continued on I-40 until Clines Corners, a large travel center, which dates back to 1934 when it was started by Roy E. Cline as a filling station and cafe to the south of its current location. In 1937, it was relocated to its present location. It's a very cool stop, with tons of souvenirs, curios, and other sundries. Quite a lot for a 3 year old to get (over)excited about, so we couldn't spend as much time as we would have liked, and it was getting late. The sun was setting!
From Clines Corners, 66 continues to follow I-40 until Moriarty. By this time, however, it was dark and we were all pretty tired (did we say yet that traveling with an over excitable 3 year old is tiring? LOL). We wanted to stay in Albuquerque, so we continued on I-40. We were also taking 66 back, so if we needed to skip any parts of 66 on the way out, we would take them on the way back.
We decided to stay at a mom & pop motel in Albuquerque called the Monterey Motel. It's a non-smoker's motel and they mean it. From their neon sign to their website, they make it perfectly clear that's how they want the air there – so NO smokers. Asthmatics like me do appreciate that.
It was a very nice place – clean, well decorated and comfortable. I would definitely stay there again and I'd like to. We rolled into Albuquerque far too late, and with a tired toddler in tow, we couldn't take any nighttime neon shots (though of course, I'd prefer the golden hour anyway). Maybe next year. But until then, we hit the sheets, ready to seize the next day – taking some photos of Wild Hogs filming locations around Albuquerque…fun!!
Slideshow of All Photos (from July 3-5, 2014)
Below is a slideshow of all of the photos from this portion of the trip. Click any photo to stop the slideshow and view the photos on my Flickr site. If you are on an iOS device and do not see the slideshow below, click here to view the set on Flickr.
Hope you enjoyed the ride! Pat & Jennifer
4
Wild Hogs is a 2007 comedy starring John Travolta, Tim Allen, Martin Lawrence and William H. Macy as middle-aged friends living in Cincinnati, Ohio who own  Harleys and like to go for urban / suburban rides and hang out at the "biker" bar in the city, called "Byker's Island".
Woody, played by John Travolta, is a (formerly) rich lawyer whose swimsuit model wife recently left him, causing him to have a breakdown, losing his job and his house too. One afternoon after a ride, he questions his friends about what they are doing with their lives and suggests a real ride – a road trip to the Pacific. The other Wild Hogs are Doug, a dentist played by Tim Allen, has a loving wife but can't connect with his young son and needs to watch his stress and cholesterol levels; Bobby, played by Martin Lawrence, is a henpecked plumber with an overbearing wife and out of control daughters; and Dudley, played by William H. Macy, is a shy, nerdy computer programmer who is afraid to speak to women. All agree to take the road trip and to find some real fun and adventure and reclaim the wild guys they used to be in college.
Opening Scene – Laguna Blvd SW, Albuquerque, New Mexico
Here is a video of the opening scene where the characters get together for a suburban ride.
Here is a video that Pat took from the back window of our SUV as I drove up and down Laguna Boulevard SW.
L to R: Bobby (Martin Lawrence) joins Doug (Tim Allen), and Woody (John Travolta)
Martin Lawrence as Bobby
Rail Yards – Albuquerque, New Mexico
This scene during their ride takes them through the old Rail Yards in Albuquerque.
They are not accessible, so we took a photo from the street.
Central Avenue (Route 66) & 2nd Avenue NW,
Albuquerque, New Mexico
During their ride, the Wild Hogs take a quick break so Dudley can check on his bike after an earlier fall.
This scene was filmed at a parking lot at the corner of Central Avenue & 2nd Avenue NW.
Unfortunately, Dudley loses control of his bike in the parking lot.
After falling off, the bike hits the curb and flips into the air, striking a light pole.
But Dudley's OK!
The Library Bar & Grille, Central Avenue (Route 66),
Albuquerque, New Mexico
This location served as the Wild Hogs' hangout "Byker's Island" where they go to relax and have a beer after their ride. Woody, having lost everything in his life (but doesn't reveal that to this friends at this time), questions their upscale middle-aged, suburban biker personas – stating that instead of Wild Hogs, they're more like wild lambs. They lament that they have lost their wild side that they had in college, and wanting to reclaim their sense of adventure, decide to take a road trip to the Pacific with their Harleys.
Tijeras Avenue NE, Albuquerque, New Mexico
The Wild Hogs are getting ready to start their journey to the Pacific from US 50 in Cincinnati.
The scene was shot at Tijeras Avenue NE in Albuquerque, New Mexico. The landscaping in the background of the movie was added for the movie. The actual area features xeriscaping.
The Wild Hogs are getting ready to start their journey to the Pacific from Cincinnati. Dudley shows off his "tat" he got at the Meadow Hills Galleria for the trip – now he's a biker! The others laugh at his Apple logo tattoo.
The location along Tijeras actually does not have alot of grass or plants. The fountain (minus water) is visible in the back, as well as the building to the left.
Doug is excited that Dudley got him set up with a GPS in his phone for the trip, to which Woody replies they don't need a GPS to discover America and throws Doug's cell phone into a nearby sewer.
And the sewer was nearby too!
Another view of their meeting spot, which has the added effect of being in Cincinnati by the addition of highway signs showing US 50 West.
In reality, US 50 is in Colorado, much farther to the north of this location in Albuquerque!
After Doug, Woody, and Bobby dispose of their cell phones, Dudley throws his into the windshield of an oncoming truck, causing them to quickly jump on their bikes and take off.
This is the same location as above on Tijeras Avenue NE, only the opposite side of the underpass.
Madrid, New Mexico
As the Wild Hogs travel west, the road scenes, whether they were supposed to be in Illinois or Missouri the first night, were all filmed in New Mexico (and it shows!!).
The Wild Hogs are excited to stop at a "real" biker bar in New Mexico, which is home to the biker gang, the Del Fuegos, led by Jack Blade, played by Ray Liotta. The Del Fuegos are infuriated by the intrusion of suburban biker "posers" at their bar, telling them they aren't real bikers.
They steal Dudley's Sportster, leaving him with a sidecar attached to Woody's motorcycle. Woody, ashamed at the incident goes back to the bar to get Dudley's bike. He cuts the fuel lines to the Del Fuegos' motorcycles, causing the bar to explode when Jack's cigarette falls into the gas on the ground. With the Del Fuegos' bikes damaged, the Wild Hogs are able to get away…for now. However, Woody doesn't tell the other Wild Hogs what actually happened, instead telling his friends he threatened to sue the Del Fuegos if they didn't return Dudley's motorcycle.
In the scene below, the Wild Hogs have run out of gas due to Woody's panic about having blown up the Del Fuegos' bar, and insist they get gas at the next stop. To bad, they don't see the gas station sign that the next station is 200 miles away.
Tired, hot and thirsty, they arrive in Madrid, New Mexico.
Here is the same location in a later scene, when two of the Del Fuegos arrive in Madrid.
The majority of the remaining scenes were filmed in Madrid, New Mexico, which is located along NM 14 (The Turquoise Trail), a scenic ride from Santa Fe south to I-40/US 66. A small portion of NM 14 in Santa Fe (north of Madrid) is also a part of the Santa Fe loop, a pre-1937 alignment of Route 66.
Maggie's Diner – Madrid, New Mexico
The Wild Hogs arrive at the fictional Maggie's Diner in Madrid, New Mexico. They're extremely thirsty and their uncharacteristically raucous behavior in begging for water or something else to drink, causes the townspeople to mistake them for the Del Fuegos, who periodically arrive in Madrid and demand food and drinks at no charge and frighten the locals.
Maggie's Diner was a set built on location in Madrid, and was left to the town by the film company. It was brought up to building codes, and now is used as a gift/souvenir shop selling – what else – biker and Wild Hogs merchandise! I picked up a couple of shirts – Del Fuegos and Wild Hogs.
Old Boarding House Mercantile – Madrid, New Mexico
The next photos show what is depicted as the hotel the Wild Hogs stay in Madrid, as the gas station is closed until the next day. Upon hearing that the Del Fuegos periodically come to Madrid, Woody is extremely panicky to leave town, fearing that the Del Fuegos will soon arrive, find them, and take revenge for blowing up their bar.
The Old Boarding House Mercantile is a very nice general store in an old house – it's pretty unique as it uses the original house rooms for different categories of merchandise. They have a variety of items for sale, general merchandise, groceries, snacks, drinks, coffee, etc.
Shy and afraid of women, Dudley finds romance with Maggie, played by Marisa Tomei. Maggie owns the local Diner which bears her name. After an enjoyable night together at the town's Chile Fest, the next morning Dudley and Maggie would like to have breakfast with the others, but Woody is anxious to leave before the Del Fuegos arrive.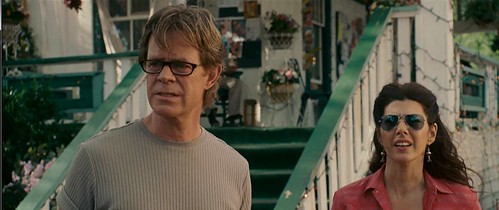 Madrid, New Mexico
But it's too late – here come the Del Fuegos!
Maggie's Diner – Madrid, New Mexico
The Del Fuegos have arrived in Madrid and are ready for retaliation – or compensation – for the loss of their bar. The other Wild Hogs are confused about this, since Woody told him they gave him back the bike after the threatened to sue them.  With no other choice, Woody confesses to his friends about cutting the fuel lines to the motorcycles, resulting in their bar being blown up. The Wild Hogs now realize the Del Fuegos want to kill them, so they hide out at Maggie's house, hoping they'll give up and leave…but instead the Del Fuegos invade the diner, threatening to burn it down.
Here, Dudley confronts the Del Fuegos which they remark is brave but stupid – they string him up over the main road and will beat him up if the Wild Hogs don't pay them for their bar.
Here is the exterior of Maggie's Diner building in Madrid.
Finally, the Wild Hogs confront the Del Fuegos. Led by Woody (who has lost everything in his life and has nothing to lose), their attempt to rescue Dudley fails and they fight the Del Fuegos.
Despite repeatedly being beaten to the ground, the Wild Hogs stand up each time to the Del Fuegos. Finally, the townspeople of Madrid realize that if four guys can stand up to 50 bikers, 500 of them can too.
As the townpeople and Wild Hogs surround the Del Fuegos, who still won't back down, their former leader and owner of the bar, Damien Blade, played by Peter Fonda, arrives in town and tells Jack and the other Del Fuegos to stop and let it go. He tells them they have lost touch with what being a biker is all about – riding and the highway…and that they – not the Wild Hogs – are the posers. He thanks the Wild Hogs for burning down the bar, explaining that he insured it for twice its value and he did them a favor.
The Del Fuegos leave and Jack says goodbye to Damien, calling him Pop; Damien shakes his head, saying Jack's just like his mother.
Damien tells the Wild Hogs to ride hard or go home, and gives them one last piece of advice….lose the watches!
Hope you enjoyed the ride!
Pat & Jennifer