Posts tagged
travel trailer
1
Our latest journey is another trip on Route 66. We decided to take our new Shasta Oasis travel trailer on this trip, rather than our typical road trip by car.
Saturday, September 12, 2015
We initially planned to start on Friday evening after work, but due to a late schedule, needed to wait until morning. We left early to ensure we could meet the schedule we had planned. That was another different aspect of this trip, that we would have some anticipated stopping points; travel less time per day, and spend a little more time in the overnight location.
For the first day, our destination was Springfield, Missouri to the KOA where we stayed for the Birthplace of Route 66 Festival a couple of weeks ago. After we passed St. Louis, we took 66 mainly through Missouri, except in a spot or two.
We stopped by Paris Springs to see Gary Turner's replica filling station, Gay Parita. Sad to hear that vandals have been stealing signs and memorabilia after his death. His sons have taken down many of the signs to prevent further thefts. Gary's daughter will be purchasing the property and opening it once again – hopefully, that will deter the vandals when someone is on site!
We went next door to visit Teresa and John – fellow Corvair enthusiasts we met during the Springfield 66 festival last month after conversing on several 66 Facebook groups. Nice visit with new friends!
Once we arrived at the KOA and he'd had some playtime at the KOA's playground, we took our grandson to the Steak n' Shake on Route 66 and then to Andy's Frozen Custard.
We enjoyed this KOA just as we had previously. There is a nearby train tracks and it is pretty close to a crossing, so when the train goes by, you do get the loud whistle sound. Whether that disturbs one is strictly personal preference. I can sleep with it, and fall right back if I wake up…plus I enjoy the sound. Your results may vary, but it's good to know!
Sunday, September 13, 2015
We moved on the next day to the Tulsa area. We continued taking 66 as much as we could, stopping at as many places as practical given our combined total of 48 feet. Of course, we stopped at Afton Station to visit our friends Laurel and Ron. Jameson enjoyed the station and exploring the Packards and the old motorhome.
Next, we stopped at the Blue Whale in Catoosa, which went well. Luckily, a year later, our grandson has a better understanding that leaving one place doesn't mean the fun is over and he knows that there is more fun down the road!
Unfortunately, on this day there would be a little less fun than we had planned. First, we ran out of gas in Tulsa. So much for the "Distance to Empty" feature on the truck, which still read 50 miles! Our Shasta came with a year of Coach Net from Forest River, the parent company of Shasta. They did very well, giving us an estimate of an hour but the service provider delivered the gas and we were on our way within 45 minutes. Two thumbs up!
That was great service though the experience was still annoying and we were a bit cranky…and then to make matters worse, we found that our RV park for the night (Cross Trails RV Park) was not at all what we expected.
Here is the description from their website:
"Sapulpa's newest RV Park located on 7 Scenic acres with all the amentities that you need to feel at home. We are located in the scenic hill country on the Southwest side of the Tulsa metro area. We use the Eaton Powerhouse Pedestal that has 50/30/20 Amp electrical plugs, TV cable jack as well sewer, trash and free WiFi internet access. Our clubhouse offers a Laundry Room, Showers , a Playground area for the kids, a Dog Park, Picnic Area and Storm Shelter."
Let me first say the good. The manager was very responsive and friendly by telephone (I did not see him in person, though). It was unusual, though, for him to tell us to meet his son by the dumpster along the fence after dark. Not exactly a usual or comfortable "check-in" experience.
The park is very new and to some extent, that is a plus. The concrete pads are very new and in excellent condition, same for the electrical pedestal. And for what it's worth, it was on Route 66.
Beyond that, I have very little other positive things to say about this RV park. None of the other amenities appeared to be built or ready…no playground or dog park. The only building that was listed as the office and laundry was closed and peeking in the windows, it was still very much under construction. The grounds were similar, with piles of dirt and rocks everywhere. Many of the other trailers were in various ages and physical condition, with some having flat tires (along with their vehicles). All around, it was not a comfortable place to stay and I wanted to leave as soon as we could in the morning. I do hope that someday this park builds or makes available all of the amenities it has advertised….but as of September 2015, it does not.
We did manage to sneak in a very short visit to the very cool playground in Sapulpa where we took our grandson last year. It got dark pretty quickly but he enjoyed it anyway!
Monday, September 14, 2015
Our next day was to be a bit longer day, trying to get to Amarillo, Texas. Unfortunately, in western Oklahoma, the wind picked up considerably and we were getting a lot more sway with the trailer than we felt comfortable. We heard it was worse in Texas, so we decided to stop and stay at the KOA between Clinton and Elk City, Oklahoma. Not too much to do in the area but they had a playground and what more does a 4 year old boy need.
This park isn't bad (the grounds), though there are better KOAs. It doesn't have much around it to do, except if one drives 12 miles in either direction to Clinton or Elk City (I did cruise Route 66 to Elk City to get some groceries and it was very peaceful!). It's very good for an overnight stop, but maybe at other times there are amenities and activities? Many KOAs have kids activities, but my feeling is this one is geared more to overnight stops. For that, it is very adequate.
We would then have an easier day getting to Amarillo tomorrow!
Below is a gallery of photos from these three days of the trip. Enjoy, and stayed tuned for the remainder of our journey!
September 12-14, 2015: Route 66 RV Trip
1
Since picking up our Serro Scotty HiLander a week ago, we've found out the prevailing question we can anticipate in the future: Is that new or restored? We encountered that question twice while camping in Batesville, Indiana Sunday. That's a fair question to ask from those who remember Scotties from the  trailer's hey-day in the mid-late 1960's.
The HiLander model was introduced in 1964 and was manufactured until the late 1970's. Little changed in the design, and with the popularity of them during those years, there was little need to fix what wasn't broken. John Serro strived to build a line of small but roomy, lightweight trailers that were affordable. Few could argue the success he had, as Scotty built travel trailers from 1957 through 1997 when a devastating fire at their last remaining plant located in Irwin, Pennsylvania put them out of the travel trailer business. Two other plants in Bristow, Oklahoma and Ashburn, Georgia had already closed in the early 1980's.
Fast forward to 2006 when an RV dealer in western Pennsylvania wanted to see the past brought back. Bill Kerola worked with John Serro's grandson to bring the Serro Scotty name back and did so with the introduction in 2007 of the 13′ Sportsman and 15′ HiLander models. Now produced by horse trailer conversion specialists Sierra Custom Interiors in Bristol, Indiana, Serro Scotty Worldwide offers a line of five different trailers from which to choose. For us, it was the 15'9″ HiLander, the largest rig they offer. We love just about anything retro, so going with a Scotty for our next trailer was going to be a perfect fit. We went as far as to have them add a black & white checkered floor and aqua  boomerang counter and table tops to add to the 1960's feel.
Their brochure asks you to "Stand apart from the crowd with this timeless classic." We've found early on during our brief ownership that standing out isn't a hard thing to do with the HiLander. That is, unless you're at a rally of original Scotties. To the average Joe, they probably couldn't tell which one was built in my birth year of 1968 (Courtesy of Scott's Flickr page)…
to one that was built just weeks ago (Ours with Sierra Interiors manager John).
But whether it's old or new, Serro Scotty is an iconic  name in the history of travel trailers that won't soon be forgotten. Bill Kerola is making sure of that.
0
After waiting all week to hear back from Tom at Serro Scotty trailers, we got in touch with him today to find out about the modifications for our new HiLander that we'd like done in production. All three were OK'd at NO COST!! With the total retro look of the exterior from the colors to the design, we wanted to do the same with the interior. First, the interior on a standard HiLander looks like this:
We're going with a different flooring. Instead of the tan stuff, we're going with the highly retro black & white checkered floor, which will look similar to this old Shasta trailer:
The next issue was with upholstery. The 2010 HiLanders have a brown, paisley looking design that neither of us cared for. The folks at Sierra Motor Corp. in Bristol, IN, where the Scottys are built, will be sending us some photos of some solid colors for us to choose from.
The last request was for a Formica boomerang design for the counter and table tops. The one we thought would tie in with the exterior would be the aqua colored boomerang. A chrome edging around the counters and tables will also compliment the boomerang quite well.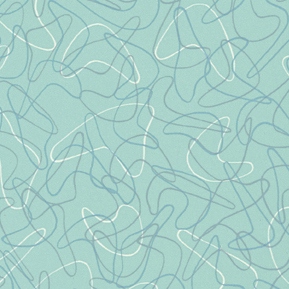 So that's the plan! Happy to say our HiLander is now officially ordered and it sounds like one they've already started will be earmarked for us. ETA 3 weeks!  Stay tuned…
0
Those of you who follow the blog know that we're new RVers since September and are already looking to upgrade to something with a few more amenities than our T@B. We've been back & forth for over a month trying to decide what we want our next trailer to be. We were pretty sure we narrowed it down to the Serro Scotty HiLander, and even made a trip to western Pennsylvania to talk with the owner of the company.
However, the Indy RV Show has been in town the past week and on our second trip to it this past Friday night, we ran into a nicely priced and bigger alternative: The CrossRoads Zinger.
The Zinger is a nice entry-level travel trailer, built by CrossRoads RV near the RV manufacturing hub of Elkhart, Indiana. This is a very nicely built model, with ample room and other goodies. Compared to the Scotty, it's surely a typical looking "box" trailer.
So this leads us to our current weighing of pros & cons. The Scotty has the cool retro 60's look, but is smaller. The Zinger is a box on wheels, but has more room for a similar price as the Scotty.  The Scotty could fit in a garage, but the Zinger couldn't. The Scotty weighs 2500 lbs and the Zinger weighs about 4000lbs. The heavier load would likely require me to have my 200,000-plus mile transmission rebuilt. The Scotty checks in at 15'9″ from tongue to tail and the Zinger measures about 23′.
So these are some of the variables we need to think about before making a decision. And of course, we won't have to make a decision until we sell our T@B. So, what are your thoughts? Feel free to comment below!
4
 **UPDATED  4/23/2010** Our T@B has been sold! Thanks for your  inquiries!
For the three of you who follow my blog, my apologies for turning this into a classified ad! Just looking to get a little more internet exposure for our T@B we have had for sale.
For those of you who found this site because you're looking to buy a T@B, thanks for finding us! Feel free to contact us at roadmaven@aol.com. Our T@B has been sold, but if you would like a brand new T@B,  try Little Guy Trailers, who has resumed production of these cool trailers!
2010 TAB TQ Travel Trailer with loads of options and extras! **Excellent condition, must see!!** Selling SOLD at $1,000's below MSRP
With some regret, we SOLD  are selling our 2010 T@B TQ travel trailer. We loved it and have had fun camping in it since October. But as we thought hard about the types of travel we would like to do and the places we want to stay (basically going off the grid and boondocking/dry camping), we feel that we'd really be happier and more comfortable with slightly upgraded model with toilet and shower.
But if you're looking at this, you probably already know that the T@B has no bath or shower and don't have a problem with it! As stated, our model is was a TQ, which is the U-shaped dinette that converts to a queen-sized bed, and has the roomy L-shaped kitchenette. Here are more details from T@B's website about the TQ model, including its standard features, options, stock photos, virtual tour, etc. Their site is more informative for general information than I could be: http://www.tab-rv.com/specs/Qfloorplan.php Here's information regarding the TAB generally, including its history, construction, etc.: http://www.tab-rv.com/specs/index.php
As far as our the particular model we used to own, it comes came with the following options:
* Red Alufiber skin with white trim
* Stonehenge pattern for the fabric seats
* Spacesaver 9″ HD TV / DVD / radio combo with exterior antenna
* Norcold ® Compressor refrigerator – 12Volt only (Runs on 110v A/c power thru standard power converter) (note: this refrigerator option allows for the TQ to have the front window, a nice feature that allows more light)
* LP furnace
* Cool Cat ® air conditioner with heat pump
* Northern Breeze ® power roof vent
* Thermarest Archwing Awning (the newer, easier to assemble type) ($400)
* Thetford Porta-potti ($100)
We also have purchased the following items; some are essential, others are just nice to have. We won't need them with a future model the ultra-cool retro style Serro Scotty HiLander we'll purchased, so we are including  included them with the TAB:
* A shower tent for housing the Porta-potti (serves as an "outhouse")
* Stromberg Carlson Steel Platform Step (Model S-100)
* A blue 5-gallon jug and hose for gray water collection
* Teardrop trailer party lights (look just like the TAB)
* Two mini TAB toys made by Siku – one is stock (silver with yellow trim), the other we painted to look like ours, red and white
We have tons of photos of the TAB available for you to see, here at our sites on Flickr. Check out the photos carefully, as almost everything listed here as being included is shown in our various photos (but not everything in the photos is included, only what we have listed here!).
http://www.flickr.com/photos/roadtripmemories/sets/72157622413338416/
or
http://www.flickr.com/photos/11019355@N03/sets/72157622275975537/
For all of the above, including more expensive options, like the AC/heat pump, furnace, awning, and storage cover, we are asking asked $13,000, many thousands below MSRP. As we have only had the TAB a few months and have babied it alot during that time, it is in great shape and everything works perfectly. It was manufactured in July 2009. We are no longer accepting inquiries, as it SOLD LAST YEAR.  are more than happy to answer any questions you have or provide more photos. Feel free to contact us at: roadmaven@aol.com
Please note, the T@B is was located in Indiana, for those of you considering it.  It now has a new happy home with the wonderful couple that bought it last year! Thanks!
**UPDATED  4/23/2010** Our T@B has been sold! Thanks for your inquiries!
0
If you would have told me three months ago I'd be the owner of a travel trailer in early December, I likely would've looked at you, tilted my head, and would've said "Huh?" Well, it is true, and I'm quite happy I own one, a 2010 T@B TQ.
We bought this little guy in September after a series of events transpired on a Route 66 motor tour we were on in Missouri. We have no regrets after purchasing our T@B. We've had 5 camp outs in it, met some great new T@B friends, and have even spent numerous nights "driveway" camping. We're hooked and there's no turning back!
After camping out a few times, we realize whatever our next trailer would be, we want something with a shower/potty combo. We found a few small trailers on the market and like the longevity of the Casita.  But there was one issue I had with the Casita that I've been having trouble getting over. My apologies to Casita and its owners, but this thing to me is just ugly!
After having the cool looks of the T@B, it would be hard for me to own this. Make no mistake, I have the utmost respect for the Casita and their longevity. But the T@B just has that "Wow" factor. I would have settled to have one if that's all there was in our price range, but fortunately something else came along that met all our requirements. It has the shower/potty combo, it has retro styling, and it's got the "Wow" factor. It is the Serro Scotty HiLander.
Serro Scotty was a company that began producing small "canned ham" trailers in the late 1950's. After a fire at their Pennsylvania plant in 1997, they got out of the RV business and focused on, ironically, building mobile fire safety houses and are now known as Mobile Concepts by Scotty. In 2006, an RV dealer in Pennsylvania, Bill Kerola, purchased the rights to the Serro Scotty name and began having a few of the more popular Scottys from the 1960's reproduced, retaining much of the original look, but with 21st century technology.
We took a trip to Collinsville, Illinois to an RV dealer there who sells the new Scottys. We were very impressed with a number of things with the HiLander he had for sale. It appeared to be constructed quite well, the oak cabinets were put together well, it had a nice amount of usable floor space, it had a nice amount of head room compared to our T@B, the shower/potty combo looked ample, and oh yeah, it had that "Wow" factor!
We've learned the new Scottys are being produced by Sierra Motor Corporation in Bristol, Indiana that makes living quarters for horse trailers. Jennifer talked to Tom at Serro Scotty Worldwide, the general manager, and he did a fine job answering all the questions & concerns.
So…it looks like we're going to make the commitment to get a HiLander for our camping adventures. Ahh, but one issue first: We have to sell the T@B. We've begun the process with an ad on Craigslist. We're not too worried if it doesn't sell right away, as we don't feel there's a big rush. But, we're really getting excited about one day getting the HiLander. And we're pretty sure we'll hang on to that one longer than 3 months. 
11
For several years, Pat and I talked about getting a teardrop trailer/camper. We had seen the traditional teardrop style, and thought it was cute. A traditional teardrop trailer is small, and the inside is just a bed (can't stand up in it). The back hatch opens up to a galley kitchen. Some are very basic, whereas others are more elaborate, with air conditioning, a refrigerator, sink, cable TV…the sky's the limit on customizing these. Here is one made by a company called Cozy Cruiser:
We looked into them several years ago, but at the time, weren't ready to purchase. So we kept taking our road trips and staying in motels as usual. This past weekend, we attended the 2009 Missouri Route 66 Association's Annual Motor Tour. There was a couple on the tour, traveling with a teardrop trailer, decked out in a Route 66-theme. How cool!
Not only cool, but for sale too. We were very interested in it, and thought we might catch up with the owners again and talk about it.
During the tour, one of the passport stops was at a town festival in Strafford, Missouri. There was an RV display with a full-size RV, a camper, and a teardrop-esque trailer, called T@B.
While not a "traditional" teardrop, T@Bs have the same general shape of a teardrop, but taller and longer. It's exterior dimensions are: height –  7′ 9″, length – 15′ 6″, width – 6′ 7″. It's interior height is 5′ 9″. This particular model has a toilet compartment inside. Other features common to all T@Bs are a dinette which converts to a bed, interior kitchen with stovetop and sink, and cabinets. Options include fridge, flip-down TV/DVD, air conditioning / heater, porta-potty, awning, screenroom, and more.
Here is the dinette area:
And the kitchen area:
Another passport stop was at a Route 66 RV park / motel, and we talked to the owner for a while. He highly recommended Scamp or Casita. Both fine trailers, but we preferred the teardrop style. The T@B combined the best of both worlds: teardrop shape, but bigger inside, with a kitchen and seating area. On our ride home, I was searching the internet on my smartphone for trailers, but that was challenging!
When we got home Sunday, we started searching…continued Monday night…Tuesday, I found a Yahoo Group for T@B owners. I joined, and started asking questions. Pat found out that Dutchmen was discontinuing manufacture of the T@B, but the enthusiastic and friendly members assured us that purchasing a T@B was a good idea and we would have loads of fun in it. The members are also very knowledgeable and an amazing resource for all aspects of owning a T@B. Pat and I talked alot, asking ourselves if we wanted a traditional teardrop, would we really be comfortable inside it? If it rained as we had to cook in the open galley in back? Not that there's anything wrong with them…they're still cute, but the lure of the T@B keep pulling us back.
So, we finally forged ahead with wanting a T@B, searching new vs. used. We made a few contacts through Craig's List, but they were very far away. We ended up finding a dealer with new 2010 T@B models, right here in Indiana! Their prices for new were very reasonable, far below what we had seen elsewhere on the internet for new models from dealers.
By Wednesday, Pat and I were so enthralled, and seeing the price for the new T@B, decided to plunge headfirst. We'd been corresponding with Deb at Tiara RV, and so once Pat and I made a definite decision, I called Deb, and the deal was in motion.
Here is the one we selected:
We made an appointment to pick it up Saturday. Now, here it is, Saturday morning, and we're getting ready to head out. I slept well last night, but I guess I was so excited, I woke up at 4:00 AM and couldn't get back to sleep!
So, I'll post more of my own photos later when we get home with our new baby!!
Here she is!!
This cool motel sign was in front of the RV dealer. We pulled up with our red T@B and the dealer had a yellow model on display out front. How well they coordinate with the sign!
Stay tuned for our travels with our "Cherry Bomb."